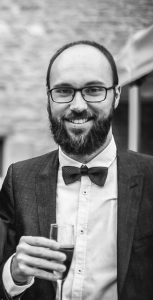 I am a music composer, producer, mixer and guitarist from Lyon, France. I have always been passionate about music, and got my first guitar when I was 6. I was fortunate enough to learn guitar and music theory for 15 years with an inspiring home teacher, with whom I later had the chance to play with in some bands.
After that, I composed and produced progressive and instrumental rock music, in the style of Joe Satriani, Dream Theater, Jason Becker, etc.
In this context, I trained myself using professional tools, sample libraries, and taught myself how to mix, master and distribute my music.
Today, I compose, orchestrate, mix and publish epic and orchestral music, inspired by the incredible work of composers like Hans Zimmer, Ramin Djawadi, Steve Jablonsky, John Powell, James Newton Howard, James Horner, John Williams, and many more. I also compose guitar pieces and experiment on other genres of music.
My goal is to find some projects for me to work on feature films, short films, or video games. Please feel free to contact me if you would like to work with me on such projects or if you want to collaborate with me on any other project.
Also, if you are just here to listen to my music, please consider supporting me by subscribing to my different channels (Youtube, SoundCloud, etc.) that you can find here in the footer.
You can also support me financially, to help me invest in musical production softwares as well as musical equipment, by visiting my Patreon page!
My original composition pieces are also available on all music streaming platforms (Spotify, Deezer, Apple Music, etc.), so have a listen there if you want to directly support my music!
Have a nice browsing!