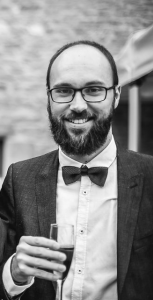 I am a music composer, producer, mixer, and guitarist from Lyon, France. I have always been passionate about music and got my first guitar when I was 6. I have been learning guitar and music theory for 15 years with an inspiring home teacher, who then became my band partner in multiple rock and progressive metal bands.
Since 2014, I have been composing and producing music in various genres, from progressive and instrumental rock music to symphonic, orchestral, and epic music for film, television, and video games.
I am also the creator, video editor, and music composer of the short film One Earth, which has been watched by 2 million viewers worldwide and is being used daily as educational material for environmental issues in hundreds of schools around the world. One Earth has been featured in international film festivals and has been shown at the United Nations summit in 2021.
If you want to work with me on feature films, short films, video games, or collaborate on any other musical project, please feel free to contact me using the contact page on this website
You can listen to some of my work on the "Music" page and also listen to my music on my YouTube channel, Spotify, Deezer, Apple Music, and every other major streaming services.
Cheers,
Romain.